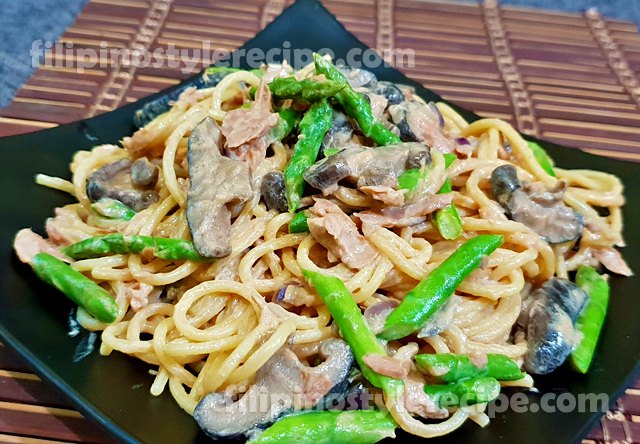 Ingredients:
500 grams spaghetti pasta(or any desired)
1 big can spicy tuna flakes in oil, drained
2 cups sliced shiitake mushroom
1 bunch asparagus, cut into 3 inch pieces
1 big can evaporated milk
6 gloves garlic, minced
1 large onion, chopped
1/2 cup chicken stock or water
1 cup Parmesan cheese, grated
1 teaspoon dried basil leaves(optional)
2 tablespoons olive oil or butter
1 teaspoon ginger powder
salt and pepper to taste
Procedures:
Part 1
1. In a large pot, prepare the pasta based on cooking instructions. Set aside.
Part 2
1. In a pan, heat oil and saute garlic and onion.
2. Add mushrooms then saute for a minute.
3. Add tuna and ginger powder, saute for 3 minutes.
4. Pour chicken stock and bring to boil.
5. Add evaporated milk, cheese and basil.
6. Season with salt and pepper. Mix well.
7. Add asparagus then cook for another 3 minutes.
8. Add pasta then toss together. Transfer to pasta tray then serve.