Filipino Style Recipe: I have received requests from my colleagues to do a pink cupcake so one lazy afternoon, I decided to grant their wish. The cupcakes came out beautifully and my colleagues raved about them. Now I am thinking what other flavors and colors will be next.
Yield: 24 cupcakes
Ingredients: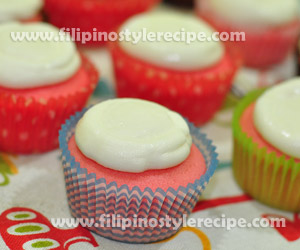 1 cup butter, softened
1 1/4 cup sugar
3 eggs
2 teaspoon vanilla extract
1 cup sour cream
2 1/2 cup all purpose flour
1/4 teaspoon salt
1 1/2 teaspoon baking powder
1/4 teaspoon baking soda
4 drops red food color
1/2 teaspoon strawberry extract (optional)
24 big marshmallows
Procedures:
1. In a large mixing bowl, cream butter and sugar using an electric mixer until light and fluffy, around 5 minutes. Add eggs one at a time, beating after each addition until just combined. Beat in vanilla.
2. In another bowl, combine flour, salt, baking powder and baking soda. Add to the creamed mixture alternately with the sour cream, beating well after each addition. Mixture is a little heavy.
3. Add the food color and strawberry extract and whisk slowly until color is well distributed. Use more or less food color to achieve the shade of pink that you like.
4. Fill paper lined cupcake cups until 2/3 full. Bake in preheated oven at 350 degrees Fahrenheit for 15 minutes or until toothpick inserted comes out clean.
5. Get the cupcakes from the oven and quickly top with marshmallows. Put back in the oven and bake for 30-40 minutes until marshmallows are softened. Remove from the oven and press down the marshmallows using spoon. Let it cool completely.