Filipino Style Recipe: PATA TIM (CHINESE-FLAVORED STEWED PIG'S FRONT HOCK PROCESSED THE WESTERN WAY) Of Chinese origin, PATA TIM has been modified into various presentation, ingredients' mix and cooking style.
I grew up in a family where one of its variations "Paksiw Na Pata"(Filipinos' vinegar based stewed hock) was served once a month. Succeeding recipe will NOT make use of "bulaklak ng saging" (banana blossom) but just carrots & shiitake mushroom that Westerners love. This recipe has been adopted by many friends-cooks, adding little tweaks, for their signature secrets.
Pangs (my spouse) and I labored on these 2 dishes: a different "PATA TIM' & the technologically innovated U.S. BEEF MECHADO, (for next posting) nights before, to serve to our kids and grandkids out on weekend of June 28 & 29 to Subic Bay, Olongapo City, Phils. for their 5i50 triathlon. In mind, well prepared offerings over steamed rice will surely perk their stamina up in time for next day's arduous match. Try. Your family will love this "DIFFERENT PATA TIM".
INGREDIENTS: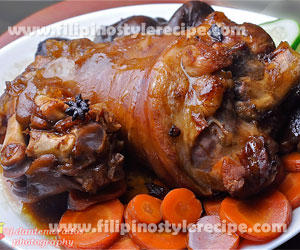 1 piece fully cleaned pig's front hock – with still a little of trotters attached but hooves cut off (USA and Canadian front hocks command higher prices than back for they are meatier)
ANTI-FOUL SMELL BOILING SOLUTION:
Enough tap water to cover entire hock in a casserole.
20 ml. any red wine
3 grams salt dissolved well
PRESSURE COOKER SOLUTION:
Enough tap water to cover pre-boiled hock.
40 ml. soy sauce
3 grams salt
20 grams brown sugar
3 grams crushed black pepper
6 cloves crushed garlic
5 pieces star anise
2 pieces sliced "labuyo" (bird's eye chilies)
OVEN TOASTER'S SEARING MIX:
15 ml. palm oil (or palm olein)
6 cloves crushed garlic, finely chopped
FINAL SAUCE MIX:
200 ml. of left over Pressure Cooker Solution
1 medium carrot sliced
5 pieces sliced shiitake mushrooms soaked in water for 30 minutes
10 grams corn starch dissolved in 30 ml. water (slurry-thickener)
3 grams chili powder (NOT chili pepper powder. Chili powder contains 5 or more spice-herb combination plus salt while Chili Pepper Powder is just the powder presentation of that particular chili pepper).
20 ml. soy sauce
15 grams brown sugar
PROCEDURES:
Part 1
1. Bring to boil your well blended anti-foul smell boiling solution.
2. Once boiling starts, set timer and boil for 20 minutes. Discard water. Set aside hock.
Part 2
1. In pressure cooker, add in ALL ingredients tumble thoroughly until no lumps are evident.
2. Lay pre-boiled hock, cover, attach nozzle and start under medium heat. When whistling starts, pressure cook for 30 minutes.
3. Done…subject pressure cooker to running tap water, when whistling stops slowly remove nozzle-open cooker.
4. Remove hock set aside including pressure cooker solution.
Part 3
1. Rub palm oil of the oven toaster's searing mix unto all sides of hock. Rub crushed garlic as well. Lay unto toaster pan.
2. Set toaster to high temp, ensuring top heating rod is in fiery-red state, wedge toaster pan in topmost slot for quick searing. Toast for 10 minutes each side.
3. While you are on this searing stage, in a pan, heat the 200 ml. leftover pressure cooker solution.
4. Add in sliced carrots, drained shiitake mushrooms, chili powder, soy sauce and brown sugar. Boil for 2 minutes.
5. While boiling pour in slurry and stirring constantly, continue for few seconds until sauce thickens. Make your desired adjustments on saltiness & sweetness level, should you wish.
6. Lay seared hock unto plate and pour in your sauce. Garnish. Serve. Watch your family's happy smiles.