Filipino Style Recipe: Wild Mushroom Soup is a delicious rich in flavor soup dish made of different types of mushroom cooked in beef broth and flour. This dish is usually serve as starter or during rainy season.
Ingredients: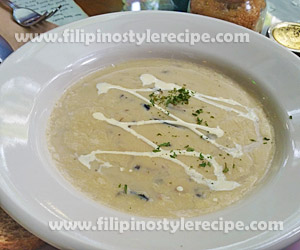 1 tablespoon butter
2 tablespoons finely chopped onion
1/2 cup thinly sliced button mushrooms
1/2 cup fresh chopped oyster mushrooms
1/2 cup thinly sliced shiitake mushrooms
1/2 teaspoon fresh parsley
2 tablespoons brandy
2 tablespoons all purpose flour
4 cups beef broth
Procedures:
1. In a pan, melt butter then saute onion.
2. Add mushrooms and parsley then saute until brown.
3. Add brandy then simmer for half a minute.
4. Add beef broth and flour then stir slowly until well combined.
5. Simmer for 10 minutes then season with salt and pepper.
6. Transfer to serving plate. Drizzle with milk(optional) then garnish with dried parsley.
7. Serve with bread.