They say it takes a village to raise a child. For Filipino-American Victor Elizaga, who is shepherding the growth of his ALL-NATURAL Calamansi ready-to-drink beverages in America, the adage couldn't ring more true. As founder and CEO of Pacific Fruit and Beverage, a SF Bay Area juice manufacturer, Victor has introduced the authentic flavors of the Philippines with ALL-NATURAL Calamansi beverages.  Initially distributed through local stores and restaurants, ALL-NATURAL Calamansi is starting to gain national attention through major retailers including Cost Plus World Market and Wal-Mart.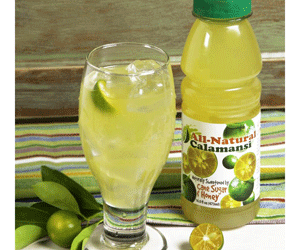 "The Filipino community in the US has embraced ALL-NATURAL Calamansi beverages much as they did our famous boxer, Manny Pacquiao," explains Elizaga who now lives in the San Francisco Bay area. "It's not common for a Filipino to make it big in the US business world, so when Filipinos discover that ALL-NATURAL was founded by me, they are extremely supportive.   Now that we have acquired access to national distribution, we really need the help of the Filipino community.  It is easier than ever now to find ALL-NATURAL Calamansi nationwide through Cost Plus and in the Bay Area at Wal-Mart."
ALL-NATURAL Calamansi juices would not be where they are today had it not been for the continued support of the Filipino community in America.
Creating an Authentic Calamansi Flavor that Reminds Filipinos of Their Roots
For Filipinos, calamansi juice is as much a part of everyday life as orange juice is for Americans. Not only that, but any Filipino will tell you about all of the multi-purpose uses for Calamansi. It can function as a stain remover for clothing, it works as a natural tenderizer, and is prescribed by doctors for its medicinal value. Rich in vitamin C, phosphorus, and other vital nutrients, calamansi juice infuses the lives of Filipinos with vibrancy in many ways. "I had some pretty severe joint pain and my doctor told me to take calamansi juice and it really helped," Elizaga explains.
Either lightly sweetened with honey for drinking, mixed in with the soup or main course, or in a bottle as a condiment, calamansi juice is a staple at every meal. "For me, calamansi juice reminds me of growing up," explains Elizaga. "When I woke up every morning, there was always calamansi, fresh-squeezed, just the way I like it."
One of Elizaga's favorite uses for calamansi juice is Sinigang, a sour broth made with prawns, radish, eggplant, and a calamansi soup base. "My Mom used to make it."
It is this sense of coming home that Elizaga wanted to capture when the idea of marketing a calamansi beverage in America first came to him. Knowing the longing he and many of his fellow immigrants felt for their favorite fruit juice, Elizaga set about finding a way to make it available to his community abroad.
Though there were other bottled versions of calamansi juice already on the American market, none reflected the true flavor he remembered from childhood. "They're too sweet or too watery."
So he began to work with a calamansi supplier based in the Philippines to develop a flavor profile that would authentically represent the calamansi juice he knew and loved. After tinkering with the recipe a few times, they landed on the perfect balance of flavors.
With a focus on allowing the natural health benefits of the calamansi fruit shine through, ALL-NATURAL juices are free of artificial colors, flavors, and preservatives. They're also based on real juice formulations – about 16 whole calamansi fruits per 16-ounce bottle – sweetened with only honey and cane sugar. "Ours is just the right combination of sweetness and fruit."
And it shows. Once ALL-NATURAL hit the market under Elizaga's company Pacific Food & Beverage (PFB), the Filipino community snatched it up. When asked what they think about the bottled version of their favorite drink, the average Filipino responds in the same way: "It reminds me of home."
For Elizaga, that's a vote of confidence he appreciates sincerely. "If I didn't have that base, it would be a lot more difficult to make ALL-NATURAL as successful as it has been."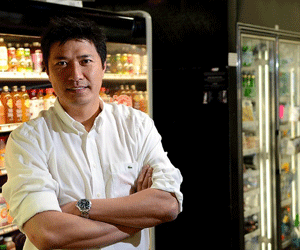 Introducing Americans to a Filipino Favorite: Calamansi Fruit Juices
Why keep a national treasure like calamansi juice a secret? "In my opinion, it's a hidden gem," explains Elizaga. "It's very Filipino. Just like ordering Thai iced tea in a Thai restaurant, I want calamansi juice to become associated with Filipino culture."
Yet, as Elizaga explains it, no one has yet attempted to take it to the mainstream market. This is why he has established distribution channels to get this Filipino favorite into the hands of other Americans, convinced they will enjoy it as much as he does.
And they're already proving him right. For Americans, the mix of lemonade and orange juice flavors was an instant hit. "They love it!" Elizaga boasts.
Thanks to the help of Digital Concepts 2.0, PFB has recently introduced their juices to consumers available through all 130 Cost Plus World Market across the US and select Wal-Mart locations as well. Elizaga is certain that as more Americans discover the deliciousness and versatility of calamansi juices, that they'll make it a staple of their lives as Filipinos do, thereby creating a bit more Filipino culture in America.
Staying Close to His Filipino Heritage Grounds ALL-NATURAL Juice Founder
Even as his company grows, Elizaga stays close to his roots. Aside from the authentic flavors Elizaga has managed to create, and the fact that he's a hometown boy to many Filipinos living in the US, what has made him even more popular within the community is the fact that he's remained loyal to his cultural heritage.
Every year, for instance, Elizaga volunteers for the Pistahan Festival – the biggest celebration of Filipino culture in the Bay area that features the art, cuisine, dance, and industry of the Filipino community. In addition to his work with the Filipino consulate in the US, Elizaga is also proud to support Filipino workers back home where the factory produces the puree for his juices. "We're one of the biggest importers of calamansi puree into the US, which means we indirectly employ a lot of people in the Philippines."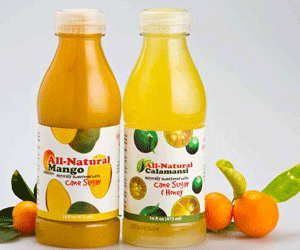 Today, ALL-NATURAL is sold in several flavor combinations, including mango-calamansi. They've also created a Calamansi Concentrate and Calamansi Seasoning. But Elizaga hopes to expand the company's juice offerings to include even more fruits that remind him and his community of home. In his mind, his work of spreading the word about all that juices of the Philippines have to offer is never done.
If you're like Elizaga – longing for the calamansi flavors of home – you can help keep the flavors of the calamansi widely available throughout America by supporting the ALL-NATURAL brand in several ways:
Go to the ALL-NATURAL Facebook Fan Page (https://www.facebook.com/AllNaturalCalamansi), like it, and share it with your friends. Don't forget to enter the regular contests!
Find Cost Plus World Market and Wal-Mart locations near you (https://www.facebook.com/AllNaturalCalamansi) and purchase your favorite ALL-NATURAL Calamansi products to signal to the distributors that they're in demand.
Tell your friends about the availability of their favorite juice and spread the word about this cultural treasure – right here in America!
What's more, many weekends you can find sampling stations for ALL-NATURAL products at Cost Plus World Market. Take a sip and discover what Elizaga and his loyal Filipino customers already know: "It's just as I remember it."