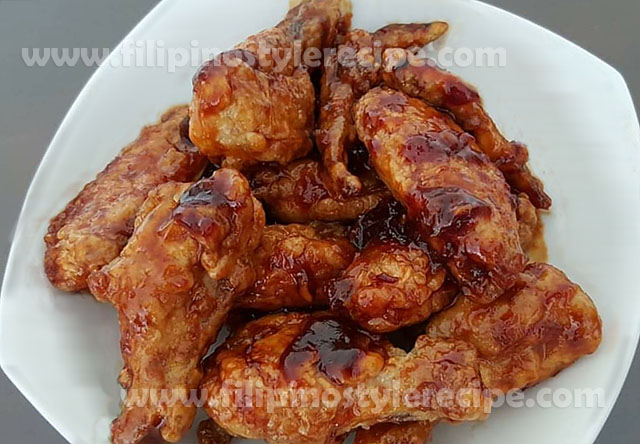 Ingredients:
8-10 pieces chicken legs and wings, cleaned
4 cups flour
salt and pepper to taste
Sauce:
1/4 cup honey
3 tablespoons soy sauce
3 tablespoons ketchup
6 cloves garlic, crushed
1 teaspoon grated ginger
1/4 teaspoon chili flakes
1/4 cup water
Procedures:
Part 1
1.Combine sauce ingredients then marinate chicken for at least 2 hours or over night inside the fridge.
Part 2
1. When ready, remove chicken from the marinade and reserve the marinade.
2. Toss chicken with flour, salt and pepper then shake off excess.
3. Arrange chicken in a baking pan then drizzle with cooking oil.
4. Bake in a preheated oven over 350 degrees Fahrenheit for 40 minutes. Turning the chicken at 20 minutes.
Part 3.
1. Meanwhile, Simmer marinade in a sauce pan for 5 minutes or until reduced by half.
Part 4.
1. Take chicken from oven then toss with the sauce.
2. Return to oven then cook for another 5 minutes.
3. Transfer into serving plate then serve hot immediately.
Comments
comments
Powered by Facebook Comments