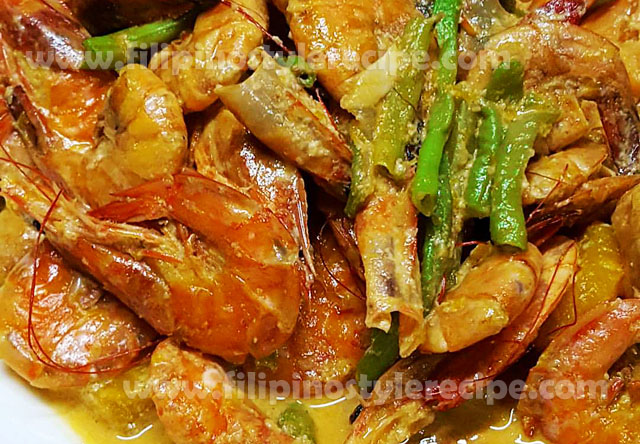 Ingredients:
500 grams shrimps
1/2 squash(kalabasa), peeled and cut into cubes
1 bundle string beans(sitaw), cut in 3 inches long.
1 tablespoon shrimp paste
1 can coconut milk
3 cloves garlic, minced
1 small onion, chopped
2 pieces green chili(siling haba)
cooking oil
salt and pepper to taste
Ingredients:
Part 1
1. In a saucepan, heat cooking oil and saute onion and garlic.
2. Add shrimps then stir cook for 2 minutes. Remove and set aside.
Part 2
1. In a same pan, add shrimp paste and coconut milk then bring to boil.
2. Add the squash then cook 15 minutes or until soft.
3. Put the sauteed shrimps back then add string beans, cook for 5 minutes.
4. Add green chili then season with salt and pepper according to taste. Add water if necessary.
5. Cook for 2-3 minutes then remove from heat. Serve and enjoy.