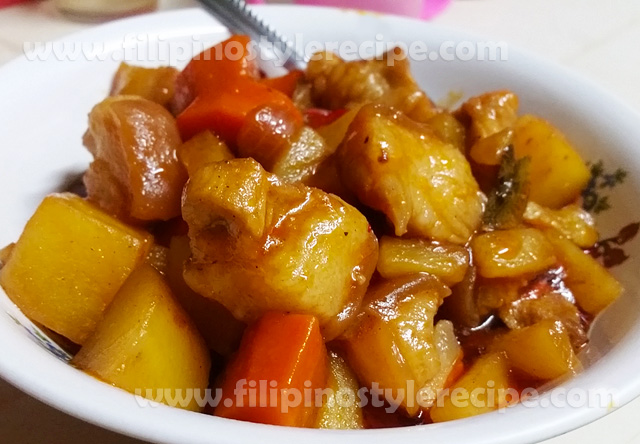 Ingredients:
500 grams pork(liempo or spareribs), cut into serving pieces
1 cup pineapple chunks
2 large carrots, cubed
250 grams tomato sauce
1 large onions, minced
3 cloves garlic, minced
2 red and green bell peppers, diced
3-4 cups water
1 can (85 grams)liver spread or peanut butter
1/4 cup vegetable oil
2-3 hot chili(labuyo), chopped(optional)
1/4 cup cheese, grated or cubed(optional)
1 cup soda(7-up or soda)(optional)
Procedures:
Part 1
1. In a pot, heat oil and saute garlic and onions.
2. Add pork, continue sauteing until color turns to light brown.
3. Add tomato sauce, soda, bay leaves and water then simmer until tender. Add water if necessary.
4. Add carrots, pineapple, bell pepper, liver spread and chili. Simmer for 5 minutes.
5. Adjust seasoning with salt and pepper according to taste.
6. Add cheese and simmer for another 2 minutes or until the sauce thickens.
7. Transfer to serving plate and serve with steamed rice.