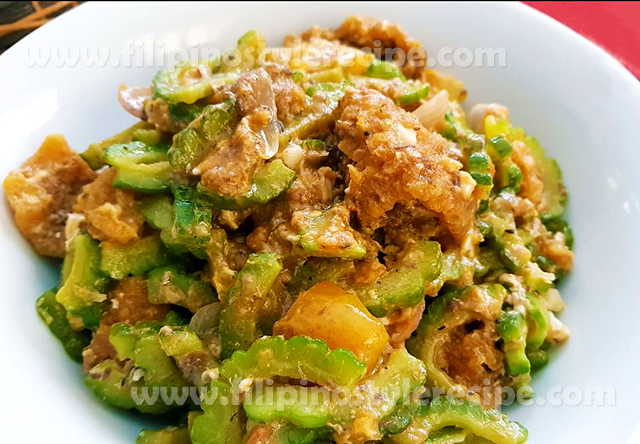 Ingredients:
1 medium-sized bitter gourd(ampalaya), cut in half then removing the seeds and sliced crosswise
1 cup pork rind(chicharon), crushed
200 grams pork, cut into small pieces
1/2 squash, chopped into 2×1 inch cubes
2 tablespoons shrimp paste(bagoong alamang)
1/2 cup water
3 cloves garlic, minced
1 onion, chopped
1 thumb-sized ginger, julienned
2 tablespoons olive oil
1 tablespoon sugar (optional)
salt and pepper to taste
Procedures:
Part 1
2. In a bowl, combine bitter gourd, 1/4 cup salt and enough water then soak for 15 minutes. Rinse, drain and set aside.
Part 2
1. In a pan, heat oil then saute garlic, onion and ginger.
2. Add pork continue sauteing until light brown.
3. Add shrimp paste and then squash, stir cook for 3 minutes.
4. Add bitter gourd, water then simmer for 5 minutes.
5. Add pork rind then season with sugar, salt and pepper according to taste.
6. Turn off heat then serve with steamed rice.