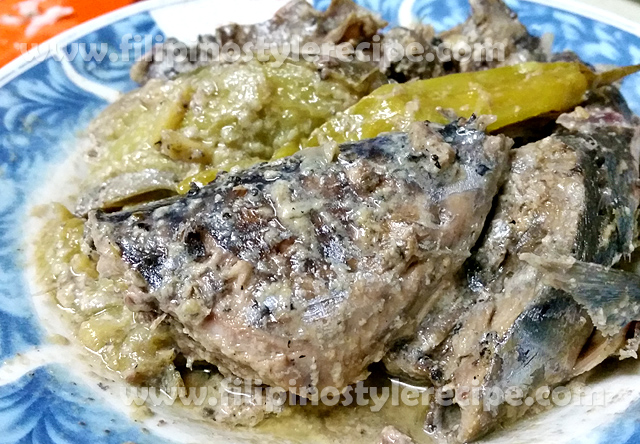 Ingredients:
500 grams tulingan(skipjack tuna), sliced into serving pieces
3 cloves garlic, minced
1 piece onion, sliced
1 thumb-sized ginger, diced
2 pieces green chili(siling haba)
1 cup coconut cream (1st extract)
1 cup coconut milk (2nd extract)
2 pieces eggplants, sliced
1/2 cup of vinegar
2 tablespoons vegetable oil
fish sauce and ground pepper to taste
Procedures:
1. In a saucepan, heat oil the saute garlic, onion and ginger.
2. Arrange fish and eggplants then add fish sauce, vinegar, ground pepper and coconut milk.
3. Cover and simmer for 15 minutes or until almost tender.
4. Add coconut cream and simmer for another 10 minutes or until creamy and oily.
5. Add green chili and cook for another minute.
6. Serve and Enjoy!