Pinakbet or Pakbet (Meat and Vegetable Stew with Shrimp Paste) is a tasty vegetable dish consisting of different fresh vegetables, pork, and shrimp paste. One of my favorite when it comes to vegetables dishes as long as not overcooked. I'm not a fan of bitter melon, so I sliced it into small pieces that I can swallow directly. This recipe is a variation from Ilocos Region called "Pakbet Ilokano". Happy cooking.
Estimated Preparation and Cooking Time: 40-50 minutes. Good for 3-5 person.
Ingredients: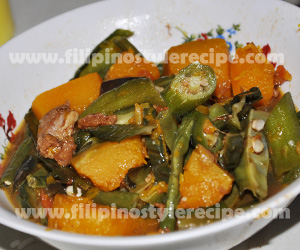 1/4 kilo pork belly, cut into small cubes
1/4 lbs. shrimp, peeled and deveined(optional)
1/2 squash, chopped into 2×1 inch cubes
1 large eggplant, cut in halves and sliced diagonally
1 bunch string beans(sitaw), cut in 2-inch length
6 pieces okra, cut diagonally
1 medium-sized bitter melon(ampalaya), cut in half seeded and slice diagonally
3 cloves garlic, peeled and smashed
1 piece onion, chopped
1 tablespoon ginger, sliced in strips
3 large tomato, diced
4 tablespoon shrimp paste(bagoong alamang)
1 cup of water
3 tablespoon cooking oil
salt, sugar and pepper to balance the taste
Procedures:
1. In a pan, heat cooking oil over medium heat.
2. Saute the garlic, ginger, onion and tomato
3. Add the pork and cook for about 5-8 minutes or until color turns light brown.
4. Put-in the shrimp and shrimp paste and cook for 2 minutes.
5. Add water and increase the heat to bring it to a boil. Simmer for 10-15 minutes or until pork is tender
6. Add the squash and cook for another 5-8 minutes or until texture becomes soft
7. Add in all the remaining vegetables, mix with the other ingredients.
8. Simmer for 5 minutes or until all the vegetables are cooked.(Do not overcook the vegetables)
9. Serve with rice. Share and Enjoy!
Notes:
1. Some is allergic to shrimp paste, you may substitute with fish sauce(patis) instead.
Comments
comments
Powered by Facebook Comments