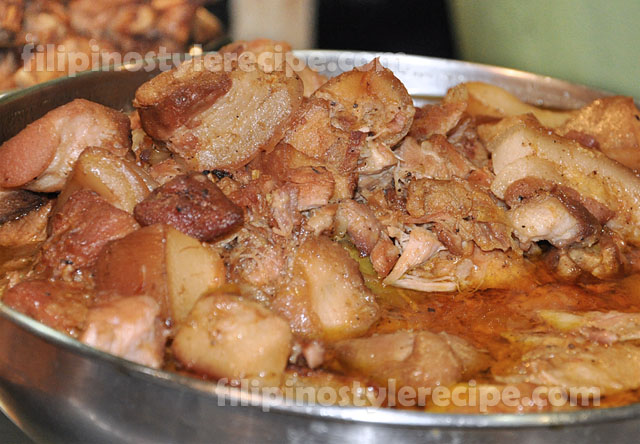 Ingredients:
1 kilo pork belly(cut into chunk cubes)
2 tablespoons pre-sauteed salted shrimp paste(bagoong alamang)
6 cloves garlic, minced
1 large size onion, chopped
2 large size tomatoes, chopped
4 chili peppers(labuyo), chopped
1/4 cup vinegar
2 tablespoons brown sugar
1 cup water
1 large eggplant; cut in slices
cooking oil for frying
Procedures:
Part 1
1. In the frying pan, fry eggplants until color turn to brown. Put in the strainer and set aside.
Part 2
1. In a pan, place pork and stir fry until start to render oil and color turns to light brown.
2. Add garlic, onion, chili peppers and tomatoes then saute until softened.
3. Add shrimp paste then stir cook for a minute.
4. Add vinegar and brown sugar then continue cooking for another 2 minutes.
5. Add water, cover and simmer over low heat until pork is tender. Add more water if needed.
6. Season with salt and pepper according to taste.
7. Add fried eggplants then transfer to serving bowl. Serve with steamed rice