Filipino Style Recipe: beef bicol express is a popular Filipino dish that has a spicy and creamy taste. This dish is another variety of bicol express originated in Bicol Region. The beef cooked in coconut milk together with shrimp paste, green peppers, beans and red chili.
Estimated time preparation and cooking: 50 minutes
Good for 5-6 persons
Ingredients: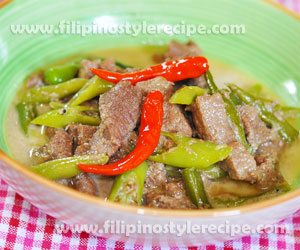 1 kilo beef sirloin, cut lengthwise
4 pieces long green peppers(siling pangsigang), sliced diagonally
10 pieces baguio beans or green beans, sliced diagonally
1 cup coconut cream (1st extract)
3 cups coconut milk (2nd extract)
4 tablespoons sauteed shrimp paste (bagoong alamang)
4 cloves garlic, minced
1 small onion, chopped
3 pieces red chili(siling labuyo)
2 tablespoons vegetable oil
salt to taste
Procedures:
Part 1
1. In a bowl with water and salt, soak green peppers for 30 minutes then rinse and drain.
Part 2
1. In a pan, heat vegetable oil then saute garlic and onion.
2. Add beef then continue sauteing until colors turn to medium brown.
3. Add the shrimp paste then mix for another minute.
4. Pour coconut milk then simmer until beef is tender. Add water if necessary.
5. Pour coconut cream then simmer until reduced.
6. Add the green peppers, baguio beans and red chili then adjust seasoning with salt according to taste.
7. Remove from heat then serve with steamed rice. Enjoy!
Comments
comments
Powered by Facebook Comments