Filipino Style Recipe: Crispy Chicken Binagoongan (Shrimp Paste) is another variety of chicken dish sauteed and cooked in shrimp paste. This is usually serve together with fried eggplants and steamed rice.
Ingredients: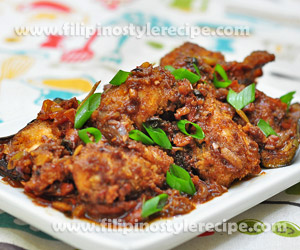 1/2 kilo chicken, cut into seving pieces
2 tablespoons pre-sauteed shrimp paste (bagoong alamang)
1 large eggplant, cut into slices
3 cloves garlic, minced
1 onion, chopped
2 pieces tomatoes, chopped
1/2 cup unsalted chicken broth
1 tablespoon brown sugar
4 pieces bird's eye chili(siling labuyo)
2 tablespoons vegetable oil
3 pieces green chili(siling haba)(optional)
2 stalks onion leeks, chopped (optional)
cooking oil for frying
For Breading Mix:
1 cup flour
1 teaspoon garlic powder
1 teaspoon ginger powder
1-2 raw egg
2 cups panko breadcrumbs
salt and ground pepper to taste
Procedures:
Part 1
1. In a bowl, combine flour, garlic powder, ginger powder, salt and ground pepper.
2. In a separate bowl, pour beaten eggs then add a little water.
3. In another bowl, combine panko breadcrumbs.
Part 2
1. Dredge the chicken into flour mixture then dip in egg mixture.
2. Press into breadcrumbs to coat evenly. Repeat for the remaining chicken.
3. Deep fry for 10-15 minutes or until golden brown.
4. Drain on paper towel.
Part 3
1. In the same pan, fry eggplants until color turn to brown. Put in the strainer and set aside.
Part 4
1. In a separate pan, heat oil and saute garlic, onion and tomatoes until soft.
2. Pour chicken broth and shrimp paste. Bring to boil.
3. Add brown sugar, green chili and red chili. Adjust seasoning according to taste then simmer for another 2 minutes in low fire.
4. Add fried eggplant and fried chicken then toss until well coated.
5. Transfer to serving plate then garnish with onion leeks. Serve with steamed rice.