Filipino Style Recipe: grilled eggplant or inihaw na talong is an easy and simple dish that is commonly served as side dish. The eggplants broiled then peeled off the skin and served with sauteed shrimp paste.
Estimated time of preparation and cooking: 20-30 minutes
Good for 4 servings
Ingredients: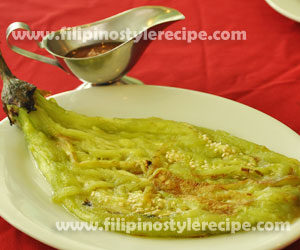 4 large eggplants(talong)
1/2 cup sauteed shrimp paste(I used Dizon Farm Shrimp Paste)
Procedures:
1. Broil eggplants until skin are charred and blister. Let it cool.
2. Peel off the skin then transfer to serving plate.
3. Mash lightly the eggplant with a fork then serve with sauteed shrimp paste.
Comments
comments
Powered by Facebook Comments