Filipino Style Recipe: Fruit and vegetable salad is a simple yet healthy dish that is commonly serve as appetizer. This dish is consists of mixed fruit and vegetable then toss in salad dressing. Fruit and vegetable salad is ideal for those on diet and health-conscious.
Estimated time of preparation: 20 minutes
Ingredients: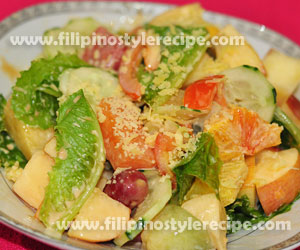 1 medium-sized cucumber, sliced
2 medium-sized tomatoes, chopped
1/4 cup pineapple, cubed
100 grams grapes
1 orange, sliced
1/4 cup watermelon, cubed
1 onion, chopped
lettuce leaves, cut into serving pieces
1/4 grated Parmesan or cheddar cheese
3/4 cup salad dressing(Caesar, thousand island or any dressing)
Procedures:
1. In a large bowl, combine fruit and vegetable.
2. Pour the salad dressing over the fruit and vegetable then toss to combine.
3. Sprinkle with grated cheese then serve cold.
Comments
comments
Powered by Facebook Comments