Filipino Style Recipe: dory in creamy white sauce is a simple yet flavorful dish. This dish is consists of dory fillets comes fried and then cooked together with mushrooms in creamy white sauce made of butter, milk and cornstarch. This is a healthy main dish that is usually serve together with steamed veggies.
Estimated time of preparation: 15 minutes(plus marinating time)
Estimated time of cooking: 30-35 minutes
Good for 2-3 persons
Ingredients: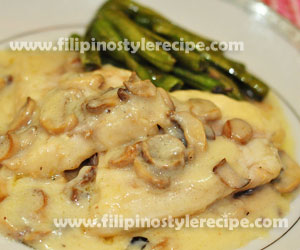 1/2 kilo dory fillets, cut into 4 inches
1/4 cup lemon or calamansi juice
1/2 teaspoon dried rosemary(optional)
200 grams sliced mushrooms
1 1/2 cups non-fat milk
1/4 cup cornstarch(dissolved in 1 cup water)
100 grams butter
salt and pepper to taste
100 grams green beans, steamed(optional)
Procedures:
Part 1
1. Season dory fillets with rosemary, salt, pepper and lemon juice. Set aside for 15 minutes.
2. In a frying pan, heat oil then fry fish until golden brown.
3. Drain on paper towel and set aside.
Part 2
1. In a bowl, pour milk and cornstarch then stir until dissolved. Set aside.
Part 3
1. In a pan, heat oil and melt butter then saute onion until soft.
2. Add mushrooms then stir fry until light brown.
3. Pour milk mixture and bring to boil then season according to taste.
4. Simmer until begin to thickens. Keep stirring.
5. Add fried fish then simmer for another minute.
6. Transfer to serving plate then serve with steamed beans.
Comments
comments
Powered by Facebook Comments