Filipino Style Recipe: Adobong Manok at Balunbalunan sa Gata or Chicken and Giblets Adobo with Coconut Milk is another variety of popular Filipino adobo. This dish has a creamy and spicy flavor similar to Bicol Express.
Estimated time preparation and cooking: 40-50 minutes
Good for 3-4 persons
Ingredients: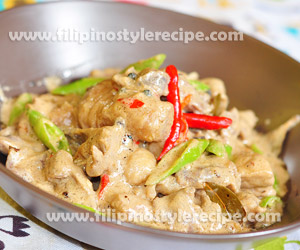 200 grams balunbalunan (chicken giblets), cleaned
300 grams chicken, cut into serving pieces
6 cloves garlic, chopped
1 onion, chopped
1 thumb-sized ginger, julienned
1/4 cup soy sauce
3 tablespoons cup vinegar
peppercorns
3 pieces bay leaves
1 cup coconut milk
2 pieces green chili, chopped
3 pieces bird's eye chili (labuyo), chopped
fish sauce and ground pepper to taste
Procedures:
1. In a pan, heat oil then saute garlic, onion and ginger
2. Add giblets and chicken then cover and simmer until tender. Add water if needed.
3. Add soy sauce, vinegar, peppercorns and bay leaves then simmer for 3 minutes.
4. Pour coconut milk and bring to boil. Keep stirring.
5. Add green and red chili. Adjust seasoning according to taste then simmer until thickens.
6. Transfer to serving plate then serve immediately together with steamed rice.