Filipino Style Recipe: Adobong kambing sa gata or goat meat adobo in coconut milk is another variety of Filipino adobo. Many people do not want the goat meat because of strong smell but boiling it together with ginger and onion helps to lessen the unwanted odor. When the meat is tender, sauteed until brown and cooked it in a blend of soy sauce, vinegar, salt, pepper and coconut milk.
Estimated time of preparation: 20 minutes
Estimated time of boiling: 40 minutes
Estimated time of cooking: 20 minutes
Good for 3-4 persons
Ingredients: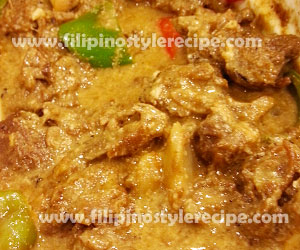 1/2 kilo goat meat, cut into serving pieces
1/4 cup soy sauce
1/4 cup vinegar
2 cups coconut cream
1 tablespoon garlic, minced
2 pieces bay leaves
1 cup water
3 tablespoons vegetable oil
1 teaspoon whole peppercorns
1 onion, quartered
1 thumb-sized ginger, chopped
sugar and salt to taste
2 pieces red and green bell peppers, sliced(optional)
1 1/2 tablespoons sauteed shrimp paste(I used Dizon Farm Shrimp Paste),(optional)
a dash of dried chili flakes(optional)
Procedures:
Part 1
1. In a pot, boil enough water to cover the meat then add ginger, onion and salt.
2. Add goat meat then simmer until the meat is tender. Add water if needed, drain and set aside.
Part 2
1. In a pan, heat oil then saute garlic until light brown.
2. Add bay leaf, peppercorn and shrimp paste then continue sauteing for a minute.
3. Add goat meat then stir cook until light brown then add bell peppers.
4. Add water and soy sauce then simmer for 10 minutes.
5. Add vinegar then simmer for 5 minutes or until start to render oil.
6. Add coconut cream and chili flakes then simmer until sauce is half absorbed. Stir occasionally.
7. Adjust seasoning according to taste then transfer to serving plate. Serve with steamed rice.
Comments
comments
Powered by Facebook Comments