Filipino Style Recipe: Bagnet is the Ilocano version of lechon kawali. This dish is the delicacy in Ilocos region. Normally the pork belly boiled and deep fried until crispy and blister on skin then serve with vinegar.
Ingredients: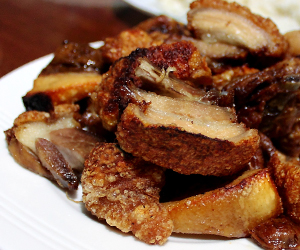 1 kilo pork belly(liempo), slice into 2 inch thick
5 gloves garlic, crushed
1 teaspoon peppercorns
2 tablespoon salt
1 bay leaves
1/2 liter water
cooking oil for frying
2 tablespoon flour(optional)
Procedures:
Part 1
1. In a pot, arrange pork belly and pour water, garlic, peppercorns, bay leaves and salt.
2. Bring to boil for 45-60 minutes or until tender. (Cook in pressure cooker takes 25 minutes).
3. Drain on paper towel and let it cool. Refrigerate over night.
Part 2
1. Sprinkle the pork belly with a small amount of flour to prevent it from drying.
2. In a frying pan, heat enough oil and deep fry pork belly in low heat for 30 minutes or until brown.
3. Drain on paper towel and let it cool.
4. Reheat the same oil and deep fry the pork belly once more for 10 minutes.
5. Sprinkle with cold water, this will help blister the pork skin.
6. Repeat the procedure until crisp and blisters on the skin.
7. Drain on paper towels and slice to serving pieces.
8. Serve with spicy vinegar.
Comments
comments
Powered by Facebook Comments