Filipino Style Recipe: Lechon kawali recipe or crispy pan-fried roasted pork is well known Filipino dish. It is consisting of pork belly cooked in boiling water with spices then deep-fried until crispy, usually serve as appetizer.
Estimated time of preparation and cooking: 40-50 minutes
Good for 4-6 persons
Ingredients:
1 kilo pork belly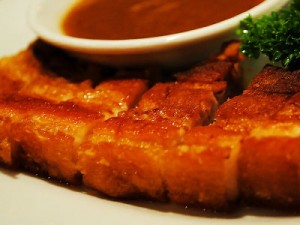 2 tablespoons salt
2 tablespoons whole pepper corn
5 pieces dried bay leaves(laurel)
3 cups cooking oil
5 cups water
Procedures:
Part 1
1. In a big cooking pot, place water and bring to a boil
2. Add pork belly then add 1 tablespoon salt, pepper corn and bay leaves. Simmer for 30 minutes or until meat is tender
3. Remove the meat, drain and let it cool for a few minutes.
Part 2
1. Spread 1 tablespoon of salt on the meat, distribute it evenly on all sections.
2. In a big cooking pot, heat cooking oil and deep fry the meat. Cook side by side until colors turn to brown and texture is crispy.
3. Remove the meat, drain and let it cool a little then slice into serving pieces
4. Serve with letchon sauce. Enjoy!
Comments
comments
Powered by Facebook Comments