Pork Dinuguan or Pork blood stew is a Filipino recipe or dish that consist of savory stew of blood and meat simmered in a rich, spicy gravy of pig blood, garlic, pepper and vinegar. It is recognizably thick and dark. Some use crispy pork as alternative meat and cook until the blood dry. But it makes more special when adding chicharon.
INGREDIENTS: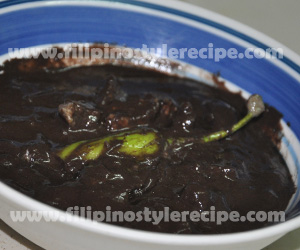 1 kilo pork(liempo or pork loin or pork belly); cut into small cubes.
Add pork innards such as ear and intestine. (optional)
3-4 cups pork blood (Some used beef blood)
4 garlic cloves; crushed and minced
1 small onion; minced
1 thumb-sized ginger; minced
3 long green peppers(siling haba)
2 pieces bay leaf
1/2 cup vinegar
2 tablespoon fish sauce(patis) or 1 teaspoon salt
MSG(vetsin);(optional)
4 teaspoon brown sugar
1 teaspoon ground pepper
1 tablespoon cooking oil
PROCEDURES:
1. Simmer pork for 30 minutes, remove scum that rises to the surface. Save the broth.
2. In a casserole, heat cooking oil and saute garlic, onion, and ginger.
3. Add pork and continue sauteing until color turn to brown.
4. Season with ground pepper, bay leaf and salt/fish sauce to taste, stir occasionally for 5 minutes until absorb the seasoning.
5. Add broth, simmer and bring to boil.
6. Pour pork's blood , stirring occasionally to keep the mixture from curdling for 5 minutes.
7. Add vinegar and bring to boil without stirring.
8. Add sugar and long peppers. Adjust seasoning with salt, MSG or fish sauce according to taste.
9. Simmer for 10 minutes.
10. Remove from fire and serve hot with chicharon(Chicharrón) and puto(sweet rice cake)!
Comments
comments
Powered by Facebook Comments