Filipino Style Recipe: ginataang papaya or papaya with coconut milk is normally the green papaya cooked with coconut milk and shredded dried salted fish.
Estimated time preparation and cooking: 20-30 minutes
Good for 3-4 persons
Ingredients: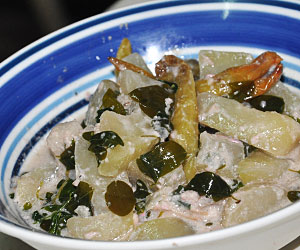 1 medium-sized papaya, cut into serving pieces
2 cups coconut milk
3 cloves garlic, minced
1 onion, chopped
1 thumb-sized ginger, thinly sliced
1 piece dried salted fish(daing or tinapa), shredded
fish sauce or salt and pepper to taste
1 piece chili finger(siling labuyo), chopped(optional)
1 bunch malunggay leaves(optional)
Procedures:
1. In a pan, heat oil and saute garlic, onions and ginger.
2. Pour coconut milk and bring to boil.
3. Add papaya, fish sauce and pepper and simmer on low heat until half-cooked.
4. Add dried salted fish, chili finger and simmer until papaya is soft.
5. Adjust seasoning according to taste. Add malunggay leaves and simmer for 1 minute.
6. Remove from heat and serve with steamed rice.
Comments
comments
Powered by Facebook Comments