Filipino Style Recipe: Inihaw na hito or grilled catfish is another delicious dish that is favorite by most Filipinos and commonly served as finger food(pulutan). Like other grilled fish, we marinate catfish then grilled over hot charcoal.
Estimated time of preparation: 20-30 minutes
Estimated time of cooking: 20 minutes
Good for 3-4 persons
Ingredients: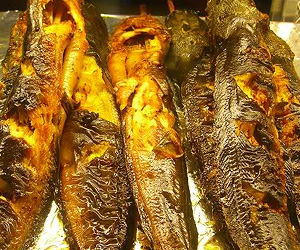 3 catfish(hito), remove innards then rub and clean with salt
1/2 cup light soy sauce
salt and pepper to taste
1 head garlic, crushed unpeeled
You will also need:
bamboo Skewers
charcoal grill
Procedures:
Part 1
1. In a large container, place catfish then add salt and water. Let stand for 10 minutes then rinse.
2. With a sharp knife, slits the catfish vertical cuts on both side.
3. Skew each catfish on bamboo sticks through the mouth.
4. In a large container, combine garlic, soy sauce, salt and pepper then marinate catfish for 20 minutes.
5. Grill marinated catfish over hot charcoal for about 10 minutes each side or until catfish is tender.
6. Serve with soy sauce and calamansi.
Comments
comments
Powered by Facebook Comments