Filipino Style Recipe: cabbage soup is another simple and healthy soup dish that usually served during rainy season. This soup dish is good for those on diet and health conscious. Normally the cabbage and other veggies were stir cook then simmer with chicken broth until tender. If you prefer to add meat, you may include chicken breast or ground pork.
Estimated time of preparation and cooking: 20-30 minutes
Good for 4-6 servings
Ingredients: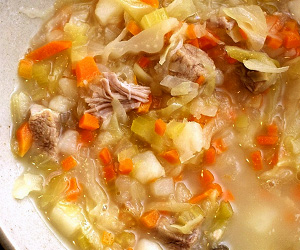 1/2 head cabbage, chopped
1 carrot, diced
1 green bell pepper, diced
2-3 cloves garlic, minced
2 white onions, diced
1 thumb-sized ginger, minced
4 cups chicken broth
salt and pepper to taste
2 pieces chicken breast(optional)
1/4 teaspoon chili flakes(optional)
1 chicken cube(bouillon cube),(optional)
1 cup celery, diced(optional)
Procedures:
Part 1
1. In a pot, boil water then add chicken, ginger, onion, salt and pepper. Cook for 10 minutes.
2. Remove chicken and shred using fork. Set aside.
Part 2
1. In a pot, heat olive oil and saute garlic and onion.
2. Add bell pepper, celery and carrots then stir cook until slightly tender.
3. Add chicken broth, shredded chicken, bouillon cube, tomatoes and cabbage.
4. Reduce heat and bring to boil until veggies are tender.
5. Season with chili flakes, salt and pepper according to taste.
6. Transfer to serving then serve hot.
Comments
comments
Powered by Facebook Comments