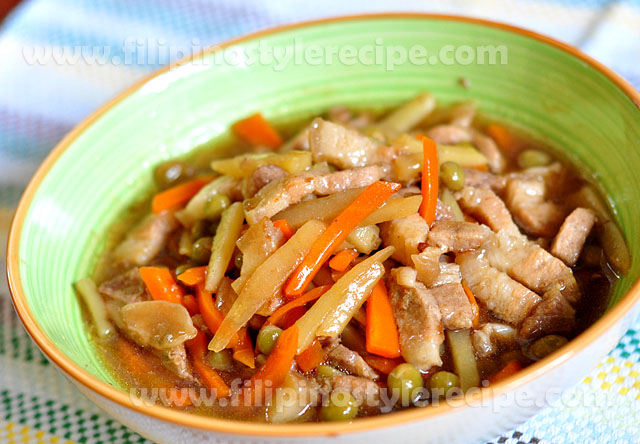 Ingredients:
500 grams pork loin, sliced into strips
3 cups water
1 carrot, cut into strips
2 potatoes, cut into strips
1/2 cup green peas
4 cloves garlic, crushed
1 large onion, chopped
2 tablespoons cooking oil
1/2 teaspoon ground pepper
fish sauce or salt to taste
Procedures:
Part 1
1. In a pot, heat oil then saute garlic and onion.
2. Add pork meat and continue sauteing until color turns to light brown.
3. Pour water and simmer for 25 minutes or until pork is tender.
4. Add green peas, carrot and potatoes then simmer for 3 minutes. Seasoned with fish sauce and ground pepper according to taste.
5. Simmer for another 5 minutes or until sauce is reduced and thickened.
6. Transfer to serving plate and serve.
Comments
comments
Powered by Facebook Comments