This is a twist from the regular Oreo cor Graham crusted cheesecake that we usually have. You may also use the brownie recipe posted here (http://filipinostylerecipe.com/2014/04/chewy-brownies/) if you don't have a boxed brownie and just cut the recipe ingredients in half.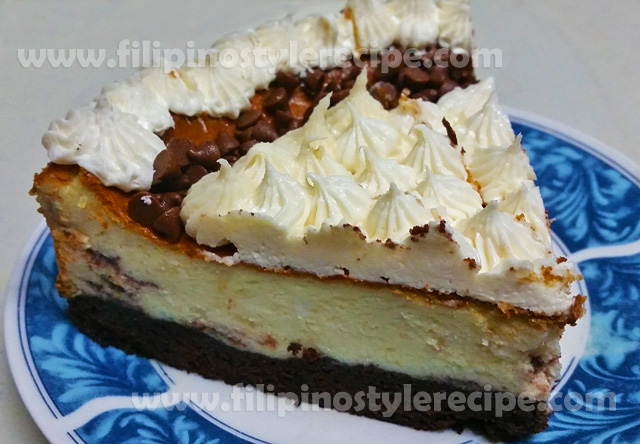 Ingredients:
1 box (19 oz) brownie mix
4 packs cream cheese, softened
1 cup sour cream
1 cup sugar
4 eggs
2 teaspoon vanila
2 tablespoon flour
1/2 cup mini chocolate chip
Procedures:
1. Grease bottom of 9 inch springform pan. Prepare brownie based on package instruction . Spread evenly on the prepared pan and bake in preheated oven at 350 degrees for 5 minutes less than stated in the package.Remove from oven and let it cool while preparing the cheesecake.
2. In a large mixing bowl, beat the cream cheese and sugar until smooth. Add eggs, sour cream, vanilla and mix until well combined. Add flour and mix until just combined.
3. Cover the chocolate chips with flour to avoid from sinking into the bottom. Fold in the chocolate chips into the cheesecake mixture.
4. Pour the cheesecake mixture over the brownie crust and bake for 45 minutes. Open the oven and let the cheesecake sit for 30 minutes to an hour before removing i. Cool completely before putting in the refrigerator.