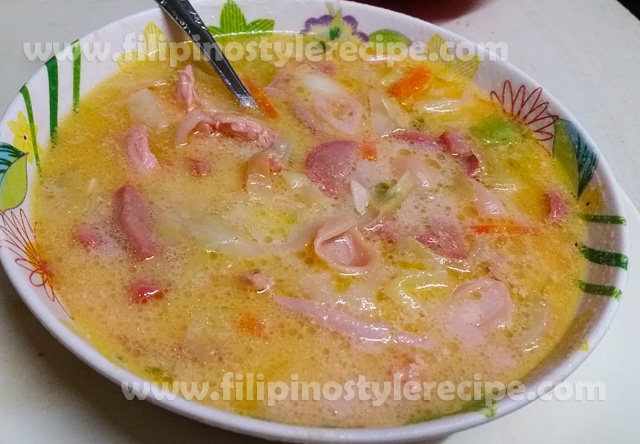 Ingredients:
3 cups uncooked macaroni(elbow or shell)
2 pieces chicken breast
2 cups evaporated milk
3 cloves garlic, minced
1 large onions, minced
3 pieces hot dogs, sliced
1 medium carrot, sliced into strips
8 cups water
1 tablespoon vegetable oil
1 small cabbage, roughly shredded
1 piece chicken bouillon(optional)
salt and pepper to taste
Procedures:
Part 1
1. In a pot, pour water and boil chicken, chicken bouillon and onion until chicken is tender.
2. Remove the chicken and let it cool down. Save the broth.
3. Shred the chicken into small pieces using your fingers. Set aside.
Part 2
1. In a large soup pot, heat vegetable oil and saute garlic and onion.
2. Add the sliced hot dogs and the shredded chicken meat and saute for about a minute. Stir constantly.
3. Pour the chicken broth and bring to boil. Add water if needed.
4. Add celery, carrots and macaroni pasta. Simmer until the macaroni is almost done.
5. Add evaporated milk and cabbage and continue stirring until simmering.
6. Season with salt and pepper according to taste.
7. Remove from heat and transfer to serving bowl. Serve hot!