Filipino Style Recipe: Creamy Chopsuey is another variety of popular vegetable dish. Similar to typically chopsuey, it is consists of different vegetables. Instead of dissolved cornstarch, we used cream of mushroom soup for creamier and tastier dish.
Ingredients: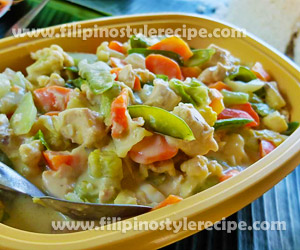 1/4 kilo pork, cut into small cubes
1/4 kilo shrimp, boiled and peeled
1 dozen quail eggs, boiled and shelled
12 pieces baby corn, sliced diagonally in half
100 grams snow peas(sitsaro)
1 piece medium carrot, sliced thinly
1/4 kilo cabbage, chopped 1 1/2″ squares
1/4 kilo broccoli or cauliflower, break into flowerettes
2-3 stalks leeks(kutsay), chopped 2″ long(optional)
2-3 stalks celery(kinchay), chopped 1″ long
1 piece red bell pepper, cut in strips
1 piece green bell pepper. cut in strips
1 can Cream of Mushroom soup
2 to 3 tablespoons vegetable oil
5 cloves garlic, diced
1 medium onion, minced
salt and pepper to taste
Sauce Mixture:
3 tablespoons soy sauce
2 tablespoons oyster sauce
1 tablespoons sesame seed oil(optional)
1-2 cups of water
1 teaspoon sugar
Procedures:
Part 1
1. In a small bowl, combine the soy sauce, oyster sauce, sesame seed oil, water and sugar.
Part 2
1. In a pan, Simmer pork in water just enough to cover the meat. Bring to boil and cook until water dried up.
2. Add vegetable oil and set aside the meat.
3. Saute the garlic and onion then put back the meat. Sprinkle lightly with salt and pepper.
4. Add shrimp and quail eggs. Add the carrot, baby corn and then all the vegetables. Stir cook for a minute.
5. Pour cream of mushroom and sauce mixture then adjust seasoning according to taste. Add more water if necessary.
6. Simmer over high heat 3-5 minutes or until vegetables are half-cooked.
7. Transfer to serving bowl then serve hot with rice.