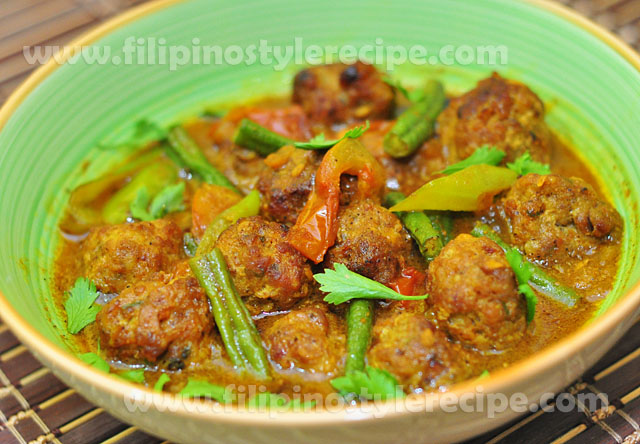 Ingredients:
1/3 kilo ground pork
1 teaspoon parsley leaves chopped, reserve some leaves for garnish if desired
1 medium onions chopped
salt and pepper to taste
2 tablespoon curry powder dissolved in water to form a paste
4 tomates, chopped
1/2 cup string beans, cut into 2 inches length
1 green chili, cut diagonally
Oil for frying
Procedures:
1. To make the meatballs, season ground pork with 1 teaspoon salt at dash of pepper, add ground parsley and half of the chopped onion. Mix well, scoop about a tablespoon and roll into ball. Do the same for the rest. Put oil in a pan over medium heat and cook meatballs until brown all over. Remove meatballs from pan.
2. In the same pan, reduce the oil for sauteing.Add the onion and saute until translucent. Add the curry paste and cook until fragrant. Add the tomatoes and about 1/2 cup water. Simmer uncovered stirring occasionally until tomatoes are soft around 5 minutes.
3. Add back the meatballs and put the beans. Cover pan and simmer until the beans are tender,around 10 minutes. Season with salt and pepper to taste. Transfer to serving bowl and garnish with parsley.