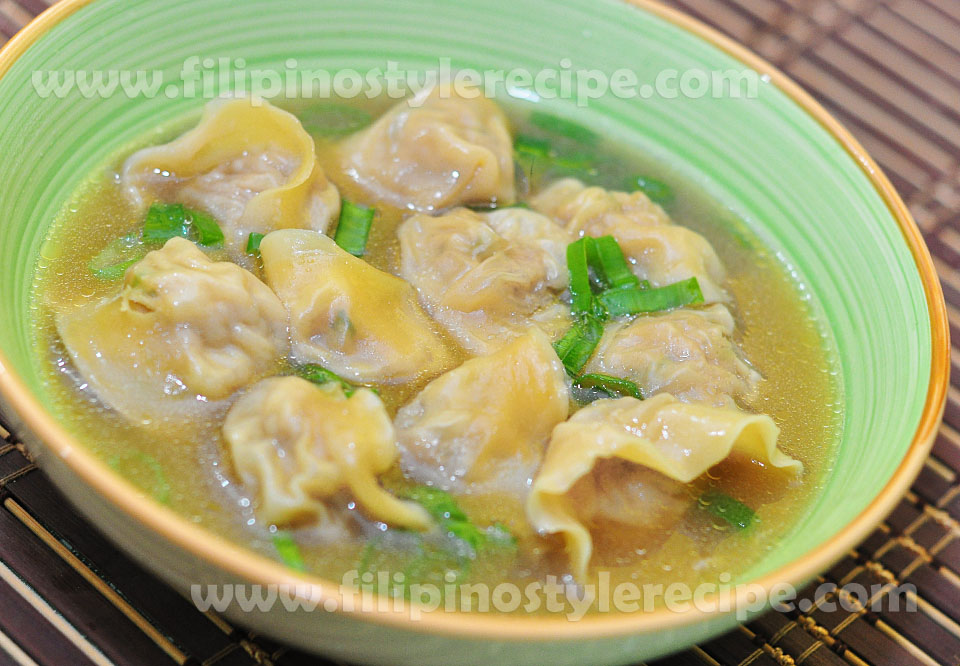 Ingredients:
For the wonton:
1/4 kilo ground pork
2 cloves garlic, ground
1 teaspoon ginger, ground
1 medium onion, minced finely
1 scallion (1 tablespoon), chopped finely
1 tablespoon soy sauce
1 teaspoon cornstarch
1 teaspoon sugar
1 teaspoon sesame oil
a pinch of ground pepper
20 pieces wonton wrapper
For the soup:
2 cups chicken stock
2 cups water
1 tablespoon soy sauce
3 cloves garlic, smashed but not sliced
1 thumb size ginger, smashed not sliced
1 scallion
salt and pepper to taste
Procedures:
1. In a pot over medium heat, add all soup ingredients and let it boil (covered)for 10 to 15 minutes. Turn off the heat.
2. To make the wonton, combine all the wonton ingredients in a bowl except the wonton wrapper. Mix until all the ingredients are evenly combined.
2. Take a wonton wrapper on one hand and brush edges with cold water using your finger tip. Put ½ teaspoon of filling in center of wrapper. Fold in half, triangle shape and seal it tightly by pinching edges together with your fingers. Brush one of lower side corners of triangle with water and bring right and left corner together and press well. Repeat until you finish with wonton filling and wrappers. Set aside.
3. Remove all solid ingredients from the soup and turn on heat and let it boil. Add the wontons simmer for 10-15 minutes. Season with salt and pepper.Transfer to serving bowl and garnish with chopped scallions.