Filipino Style Recipe: This crisp and sweet meringue is perfect with the freshness and tangy flavor of the mango. It is a perfect balance of different flavors and textures. This will be surely enjoyed by adults and kids alike.
Ingredients: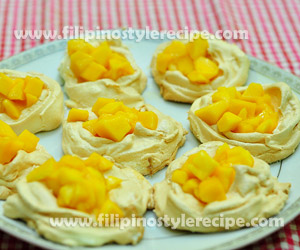 4 egg whites from 4 large egg
pinch of salt
1 cup confectioners sugar
1 teaspoon cornstarch
1 teaspoon white vinegar
Topping:
1 piece ripe mango, diced in small chunks
Procedures:
1. Preheat oven at 400 degrees Fahrenheit. Line baking sheets with parchment paper then sprinkle with flour. Set aside.
2.In a bowl of an electric mixer fitter with whisk attachment, beat egg white and salt until still peaks form.Add cornstarch and vinegar and mix until just combine.
3. Scoop around 3 tablespoon of the meringue mixture into the baking sheets and form into small nest. Do the same to make other nests.
4. Place in the oven and lower the temperature to 210 F. Bake for 30 -35 minutes or until the meringue is crisp on the outside.Turn off the oven and open the oven door but leave the meringue to cool inside.
5. Remove from oven. Transfer to wire rack to cool completely. Top only with the mango when ready to consume to keep the crispiness of the meringue.