Filipino Style Recipe: Oreo Cheesecake is one of the favorite cheesecake by most of us. The slight bitterness of the Oreos balances so well with the sweetness of the cream cheese and sugar.
Ingredients: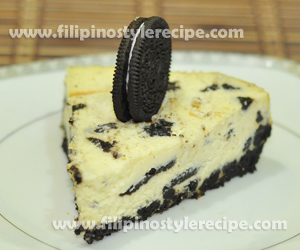 4 packs cream cheese, softened
1 cup sour cream
1 cup sugar
4 eggs
2 tablespoon vanilla
3 packs Oreo cookies
4 tablespoon butter, melted
Procedures:
Part 1
1. Remove filling of Oreos and put into ziploc then crush 2 packs into slightly coarse crumbs. In a bowl, mix the Oreo crumbs and butter until well combined. Press into the bottom of a round 9 inch springform pan then chill in the refrigerator while preparing the filling.
2. In a big bowl, mix cream cheese and sugar until well combined. Add vanilla and mix again.Add the eggs one at a time mixing using the hand until just combined. DO not over mix.
3. Set aside around 8 pieces of the remaining Oreos for topping. Remove the filling of the remaining oreos and break into pieces. Fold into the cream cheese mixture.
4. Pour the mixture into the prepared crust. Bake in preheated oven at 350 degrees Fahrenheit for 45 minutes.
5.After cooking, open the oven slightly and let the cheesecake cool inside for about 2 hours.
Part 2
1. Remove the cheesecake from the oven, top with the remaining Oreos and refrigerate before serving.