Filipino Style Recipe:This recipe gives you a fluffy and delicious pancake that's perfect for breakfast or even for snack. This can be your a perfect weekend treat after a busy week from work or school.
Estimated time of preparation: 10 minutes
Estimated time of cooking: 10-15 minutes
Good for 3-4 servings
Ingredients: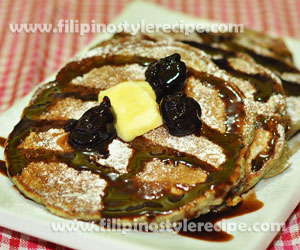 1 cup milk
1 tablespoon powdered buttermilk
1 cup all purpose flour
3 tablespoon white sugar
1 teaspoon baking power
1/2 teaspoon baking soda
1/4 teaspoon salt
1 egg
2 tablespoon butter, melted
1/4 cup blackberry pie filling
Optional for serving:
Slices of butter
Chocolate syrup
Powdered sugar
Procedures:
Part 1
1. In a small bowl, combine milk and buttermilk. Let it sit for around 2 minutes. Add the eggs and butter to the buttermilk mixture then beat lightly.In a large bowl, combine the flour, sugar,baking powder, baking soda, and salt.
3. Once you are ready to cook, combine the dry, wet ingredients, and the blackberry and mix until just blended. Do not overmix.
Part 2
1. In a pan over low heat, scoop 2 tablespoon of the batter. Wait for it to have some bubbles before flipping on the other side. Cook the other side for about 1 minute or until lightly browned.
2. Put on serving plate, top with slices of butter, drizzle with chocolate syrup, sift powdered sugar and enjoy!