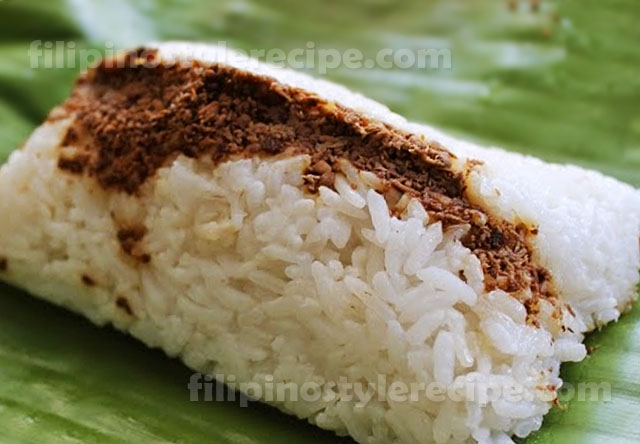 Ingredients:
500 grams chicken breast
1/4 cup dark soy sauce
3 tablespoons oyster sauce
1 teaspoon white sugar
3 cloves garlic, minced
1 onion, chopped
a pinch ground black pepper
1 tablespoon cooking oil
20 pieces banana leaves, cut into semi-rectangular shape
10 cups cooked white rice
Procedures:
Part 1
1. In a pot, boil chicken breast for 20 minutes or until tender. Reserve 1 cup broth.
2. Shred chicken breast into small strips. Set aside.
Part 2
1. In a wok, heat oil then saute garlic and onion.
2. Add shredded chicken then stir cook for a minutes.
3. Pour chicken broth, dark soy sauce and oyster sauce.
4. Season with sugar and ground black pepper according to taste then simmer until liquid evaporates. Turn off the heat.
Part 3
1. Singe each banana leaf into flames for a few seconds but do not burn. Let it cool then wipe with clean cloth.
2. Place banana leaf in a clean table then brush a little oil.
3. Scoop a half cup of rice and 1 tablespoon chicken filling then wrap neatly. Serve.neatly and serve.