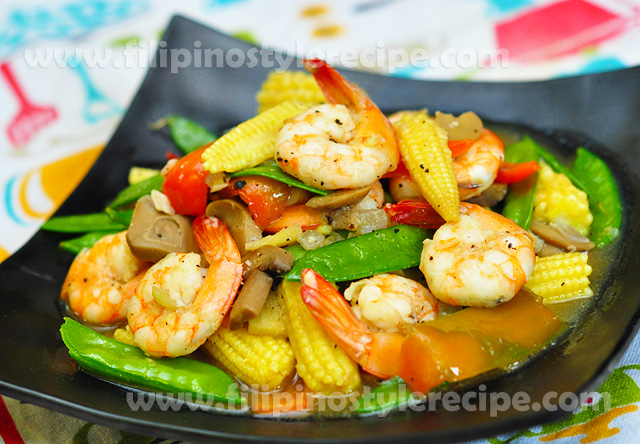 Ingredients:
300 grams shrimps, peeled and deveined
1/2 cup sliced mushrooms, drained
50 grams snow peas (sitsaro)
100 grams young corn, halves
1 red bellpepper, cut into strips
6 cloves garlic, minced
1 onion, quartered
1 thumb sized ginger, julienned
1 tablespoon cornstarch (dissolved in 1/2 cup water)
2 tablespoons vegetable oil
1 teaspoon butter
salt and pepper to taste
dried chili flakes (optional)
Procedures:
Part 1
1. In a pan, melt butter then add shrimp.
2. Season with salt and pepper then cook until starts to turn pink. Remove and set aside.
Part 2.
1. In a same pan, add oil if needed then saute ginger, garlic, and onion.
2. Add mushrooms then stir cook for a minute.
3. Add bell pepper, young corn, and snow peas then stir fry for 3 minutes.
4. Pour dissolved cornstarch then simmer until the sauce thickens.
5. Put back shrimps, chili flakes, salt and pepper according to taste then cook for another minute.
6. Transfer to serving plate then serve immediately.