Filipino Style Recipe: Tikoy or Nian Gao is a traditional Chinese rice cake popular during New Year. Tikoy is made of glutinous rice flour and sugar dissolved in boiling water then steam until set. This dish has a sticky texture dip in beaten egg then fry until light brown.
Estimated time of preparation: 10 minutes
Estimated time of cooking: 60 minutes(plus frying time)
Ingredients: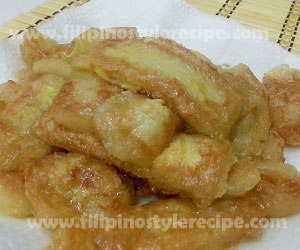 4 cups glutinous rice flour
1 1/2 cups brown sugar
1 cup boiling water
olive or vegetable oil for greasing
1 teaspoon vanilla extract(optional)
Cooking:
1 egg, beaten
3 tablespoons vegetable oil
paper towels
Procedures:
Part 1
1. In a bowl, dissolve sugar in boiling water then add vanilla extract and flour. Mix until well blended.
2. In a round pan, grease with oil then pour mixture and spread evenly.
3. Steam for about an hour or until the edges separate from the pan.
4. Let it cool and remove from the pan before slicing.
Part 2
1. In a bowl, beat egg then dip tikoy slices.
2. In a frying pan, heat oil then fry until light brown then drain on paper towels. Serve.
Tips:
1. You may also add sesame seeds on top of flour mixture before steaming.
2. Tikoy can be also cook in a microwave oven or re-steam.