How to cook Sinigang na Baboy(Sour Soup Pork)? Here's my recipe:
Ingredients: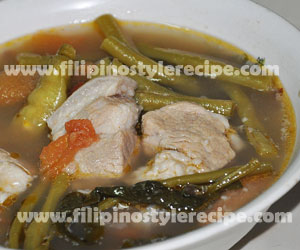 1 kilo pork,cut into cubes
12 tamarind(sampalok) Or sampaloc mix
1 big onion(diced)
6 tomatoes(quartered)
2 radish(sliced)
1 bundle of stringbeans(sitaw), cut into 2 inches long
1 bundle of river spinach(kangkong leaves)
4 pieces taro(gabi), peeled and cut into cubes
2 pieces green pepper(siling haba)
Salt and Fish Sauce(patis)
6 cups of water
Procedures:
Part 1
1.Boil tamarind, pound and strain the juice. Set aside.
Part 2
1. In a casserole, bring pork to boil until tender.
2. Add onion, tomatoes, and tamarind juice.
3. Add gabi until tender and thickens the soup.
4. Simmer, then add radish, and string beans.
5. When tender, add kangkong leaves.
6. Season with salt or fish sauce according to taste.
7. Serve hot.
Notes:
You may use liempo, porkchop, kasim or ribs as pork
You may use santol as alternative to sampaloc.
You may add lady's finger(okra) or eggplant(talong) if desired.
Comments
comments
Powered by Facebook Comments