Filipino Style Recipe: pesang manok or boiled chicken recipe is another simple chicken dish. This is similar to Tinolang Manok but the procedures are the same in Nilagang Baka. Normally the chicken boiled until tender then add onion, peppercorn, salt, potatoes, bok choy or cabbage.
Estimated time of preparation and cooking: 30-40 minutes
Good for 4-5 servings
Ingredients: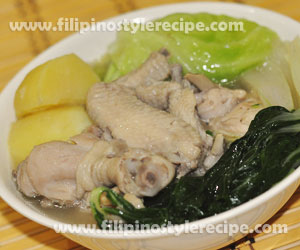 1 kilo chicken, cut into serving pieces
7 cups water(depends on your preference)
1 onion, sliced
1 tablespoon peppercorns
2 medium-sized potatoes, quartered
1 head bok choy(petchay) or cabbage leaves(repolyo)
1 teaspoon salt
1 bunch green onions(optional)
1 piece chicken broth cubes(optional)

Procedures:
Part 1
1. In a large pot, add chicken, water, ginger, onions, peppercorns and salt.
2. Cover and simmer for 20 minutes or until chicken is tender. Remove the scum as it rises.
Part 2
1. Add potatoes then cook until the potatoes is almost tender.
2. Add bok choy, cabbage and green onions then adjust seasoning according to taste.
3. Cook until vegetables are tender then remove from heat. Serve hot with steamed rice.
Comments
comments
Powered by Facebook Comments