Filipino Style Recipe: ground pork menudo or pork giniling is another tomato-based dish. A usual Filipino menudo is made of pork, liver, sweet peas, raisins, potatoes and carrots. This is similar to pork menudo.
Estimated time of preparation and cooking: 50 minutes. Good for 2-4 persons.
Ingredients: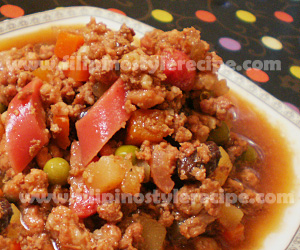 1/2 kilo ground pork(giniling)
3 cloves garlic, minced
1 onion, chopped
1 large potato, cut into cubes
1 medium carrots, cut into cubes
1 small green bell pepper, diced
2 cups tomato sauce
3 tablespoons cooking oil
1 cup water
sugar, salt and pepper to taste
2 bay leaves(optional)
1 pork broth cube(optional)
1 small can sweet peas(optional)
100 grams raisins(optional)
3 pieces hotdog, sliced(optional)
2 tablespoons liver spread(optional)
4 tablespoons soy sauce(optional)
4-6 pieces hard-boiled quail eggs(optional)

Procedures:
1. In a pan, heat oil and saute garlic and onion.
2. Add ground pork, simmer until tender.
3. Pour tomato sauce, water and pork broth cube. Simmer for 10 minutes.
4. Add potatoes, carrots, soy sauce, bay leaves and liver spread. Simmer for another 10 minutes.
5. Add green bell pepper, raisins, sweet peas, hotdog and hard-boiled eggs.
6. Season with 1 tablespoon brown sugar, salt and pepper according to taste. Mix well.
7. Simmer for 2-3 minutes. Remove from heat and serve hot.
Comments
comments
Powered by Facebook Comments