Filipino Style Recipe: Chicken chopsuey is another Chinese recipe that is popular for many Filipinos and some other countries. Normally the chicken sauteed and cooked with chicken broth, oyster sauce and cornstarch together with vegetables.
Estimated time of preparation: 10 minutes
Estimated time of cooking: 20-30 minutes
Good for 3-4 persons
Ingredients: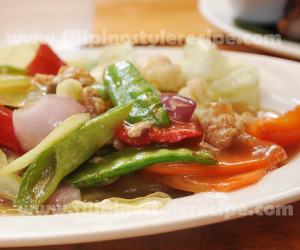 1/2 kilo chicken fillet, cut into serving pieces
2 cloves garlic, minced
1 onion, chopped
2 tablespoons cornstarch(dissolved in 1/4 cup water)
100 grams baby corn, sliced diagonally in half
100 grams snow peas(sitsaro)
1 medium-sized carrots, sliced thinly
4 tablespoons oyster sauce
1.5 cup water
1 tablespoon vegetable oil
1 teaspoon sugar
salt and pepper to taste
1 chicken cube(optional)
Procedures:
1. In a pan, heat oil and saute garlic and onion.
2. Add chicken fillet, season with salt and pepper. Cook until golden brown.
3. Pour water, chicken cube and vegetables. Cook for 10 minutes or until vegetables are half-done.
4. Pour dissolved cornstarch, sugar and oyster sauce. Simmer until the sauce thickens.
5. Adjust seasoning according to taste.
6. Transfer to serving plate then serve.
Comments
comments
Powered by Facebook Comments