Filipino Style Recipe: chicken cordon bleu is another special meat roll dish that usually served during Holidays or any special occasion. Normally the meat rolls stuffed with ham and cheese then fried or baked until tender.
Estimated time of preparation: 20 minutes
Estimated time of cooking: 10-20 minutes
Good for 6-8 servings
Ingredients: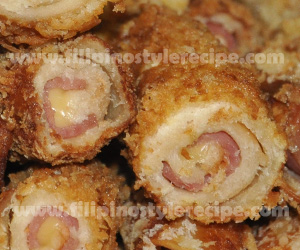 10 pieces chicken fillet
10 slices cheddar cheese
10 slices sweet ham, sliced halves
2 eggs, beaten
1/2 cup all-purpose flour
1/2 cup butter
salt and pepper to taste
1 cup evaporated milk(optional)
1 cup bread crumbs(optional)
Procedures:
Part 1
1. Pound the meat using meat pounder, season with salt and pepper.
2. In a bowl, combine beaten eggs and milk then dip meat in mixture.
3. Arrange the filling over the meat and roll the meat, secure with a thread or toothpick.
4. Dredge the meat in flour, dip again in egg-milk mixture then roll in bread crumbs. Set aside.
5. Repeat the procedures for remaining slices.
Part 2
1. Fry meat in butter for 5 minutes or bake it over 350 degrees Fahrenheit for 25 minutes or until tender.
2. Slice the chicken cordon bleu and arrange on a platter. Serve.
Comments
comments
Powered by Facebook Comments