Filipino Style Recipe: bacon, egg and cheese scramble is another easy yet delicious breakfast dish. It is consists of egg and milk mix until blended then cooked with bacon and grated with cheese. This is usually served with rice or bread.
Estimated time of preparation and cooking: 20-30 minutes
Ingredients: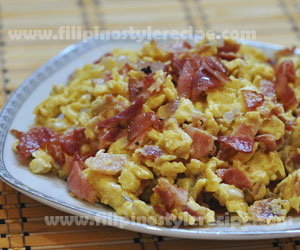 300 grams bacon, cut into cubes
3 pieces raw eggs, beaten
1/4 cup evaporated milk
5 cloves garlic, minced
1 medium-sized white onion, chopped
2 tablespoons butter
1/2 cup cheese, grated
salt and pepper to taste
Procedures:
Part 1
1. In a bowl, combine eggs, milk, salt and pepper. Whisk until well blended.
Part 2
1. In a pan, heat oil and fry bacon until done. Drain and set aside.
Part 3
1. In a same pan, melt butter and saute garlic and onion.
2. Add egg mixture then cook in a low heat. Stir constantly until the mixture is soft and fluffy.
3. Add bacon and cheese. Stir until the cheese melted.
4. Remove from heat and transfer to serving plate. Serve and enjoy.
Comments
comments
Powered by Facebook Comments