Filipino Style Recipe: dumpling soup is an easy Chinese soup dish consists of Asian dumplings as main ingredients then cooked in chicken broth together with vegetables and seasoning. This soup is very good specially during rainy season.
Estimated time of preparation and cooking: 15-20 minutes
Ingredients: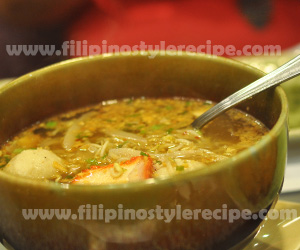 20-24 pieces Asian dumplings with filling of your choice
5 cups chicken broth
1 cup shredded carrots
2 cups sliced shiitake mushrooms
1/2 cup chopped scallions
1 teaspoon sesame oil
1/2 teaspoon salt
1/8 teaspoon black pepper
3 cups thinly sliced cabbage or bok choy
Procedures:
1. In a heavy pot, boil chicken stock then add carrots, mushrooms, scallion and dark soy sauce.
2. Add dumplings and sesame oil. Simmer and cooked for 5 minutes. Add more water if necessary.
3. Adjust seasoning with salt and pepper then add cabbage.
4. Boil for another minute or until all vegetables are tender.
5. Transfer to serving bowl then serve hot.
Comments
comments
Powered by Facebook Comments