Filipino Style Recipe: stir fried broccoli and mushroom is another healthy low carbohydrate dish. Normally the broccoli blanched then cooked with mushroom, carrots, oyster sauce and other seasonings.
Estimated time preparation and cooking: 15-20 minutes
Good for 2-3 persons
Ingredients: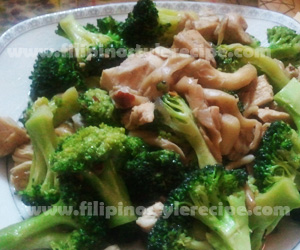 1 cup broccoli florets
8 shiitake mushrooms, sliced
1 carrot, sliced thinly
2 cloves garlic, minced
1 onion, chopped
1 thumb-sized ginger, sliced thinly
2 tablespoons oyster sauce
2 tablespoons cornstarch(dissolved in 1/4 cup water)
2 tablespoons olive oil
1/4 cup chicken stock or water
salt and white pepper to taste
1/4 cup toasted almonds or peanuts(optional)
spring onion for garnishing(optional)
Ingredients:
Part 1
1. In a pot, boil water with salt. Once boiling, add broccoli and cook for 30 seconds.
2. Drain and rinse with cold water.
Part 2
1. In a pan, heat oil then saute garlic, onion and ginger.
2. Add mushrooms, carrots and pour chicken stock then stir fry for 2 minutes or until half-cooked.
3. Add broccoli, toasted almond, oyster sauce, dissolved cornstarch, salt and pepper.
4. Stir and simmer for another minute or until sauce thickens.
5. Transfer to serving plate then garnish with spring onion. Serve.
Notes:
1. You may also add shrimps or prawns if you prefer.
Comments
comments
Powered by Facebook Comments