Filipino Style Recipe: tortang giniling or ground meat omelette is another type of Filipino omelette that is usually served during breakfast. This dish is so easy to prepare wherein the ground meat stir cooked in potatoes and carrots. Mixed the mixture with beaten egg and then fry until done. I used longganisa meat to give the sweet taste and more flavorful in our dish.
Estimated time of preparation and cooking: 30-40 minutes
Ingredients: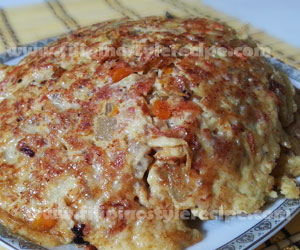 500 grams ground meat or longganisa meat
5 gloves garlic, minced
1 onion, chopped
1 large potato, cut into cubes
1 medium carrots, cut into cubes
1 red bell pepper, cut into small cubes(optional)
2 tablespoons soy sauce
4 eggs, beaten
1 cup grated cheese(optional)
salt and pepper to taste
2 tablespoons olive oil
1/4 cup olive or cooking oil for frying
Procedures:
Part 1
1. In a pan, heat oil and saute garlic and onion.
2. Add ground meat, simmer until tender.
4. Add veggies, soy sauce, salt and pepper then stir cook for 5 minutes or until tender. Set aside.
Part 2
1. In a bowl, combine ground meat, beaten eggs and grated cheese. Mix well.
2. In a pan, heat cooking oil and pour about 1/4 cup of the mixture.
3. Fry each sides for about 1-2 minutes or until done. Drain on paper towels.
4. Repeat until the entire mixture is consumed.
5. Serve hot with rice and ketchup. Enjoy
Comments
comments
Powered by Facebook Comments