Filipino Style Recipe: Seafood Salpicao is a simple and quick seafood. Usually the seafood like shrimps, squid, mussels, fish fillet, vegetables and herbs cooked together in oyster sauce, and other seasonings.
Estimated time of preparation: 10 minutes
Estimated time of cooking: 15 minutes
Good for 3-5 persons
Ingredients: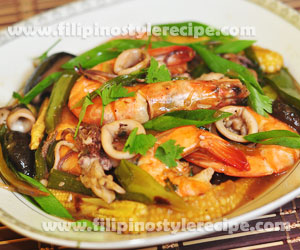 1/4 kilo shrimp, cleaned
1/4 squid, cut into rings
1/2 mussels, steamed and removed from shells(optional)
1 onion, chopped
6 cloves garlic, minced
1 thumb-sized ginger, chopped
3 stalks onion leeks, sliced diagonally
2 tablespoons coriander, chopped
1 bell pepper, sliced
80 grams pieces snow peas, trimmed
100 grams young corn, halves
100 grams shiitake mushrooms, sliced
4 tablespoons oyster sauce
1/2 cup water
3 tablespoons vegetable oil
salt and pepper to taste
Procedures:
1. In a wok, heat oil then saute ginger, garlic and onion.
2. Add young corn, mushroom then stir fry for 3 minutes.
3. Pour water and bring to boil then add seafood and simmer for 3 minutes.
4. Add oyster sauce, salt and pepper according to taste.
5. Add snow peas, onion leeks, coriander and bell pepper then cook for another 3 minutes.
6. Transfer to serving plate then garnish with remaining coriander.
Comments
comments
Powered by Facebook Comments