Filipino Style Recipe:This pastry is a good contrast of sweet and tangy,and soft and crunchy. Lemon bar is best served with coffee or tea but you can also eat it on its own. Know the best part? The trimmings at the edges!
Ingredients: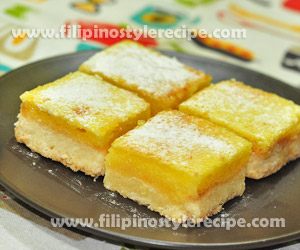 For the crust:
Oil for greasing the pan
2 cups flour
1/2 cup granulated sugar
1 cup butter, softened
For the filling:
4 eggs
1 1/2 cups granulated sugar
1/4 cup flour
2 lemons, juiced
lemon zest
1/4 cup confectioner's sugar for garnish
Procedures:
Part 1
1. Grease 9 x 13 pan with oil,line the pan with aluminum foil and also grease the foil.
2. In a large bowl, combine the flour and sugar. Add the butter and blend until the dough comes together, about 1 minute.
3. Press the dough on the bottom of the greased pan making sure there are no cracks.
4. Bake in preheated oven at 350 degrees Farenheit for 20 minutes or until golden.
Part 2
1. In another bowl, combine the sugar,flour, eggs, and lemon juice and whisk until well blended. Add the lemon zest and mix.
2. Pour into the filling over the prepared crust and return to oven. Bake for additional 20 minutes in the preheated oven at 350 Farenheit.
3. Remove from oven and let it cool. Cut into 1 1/2 inch squares.
4. Put into the refrigerator until ready to serve. Sprinkle with confectioner's sugar.
Comments
comments
Powered by Facebook Comments