Filipino Style Recipe: Strawberry cheesecake is another variety of delicious dessert that can be served in all occasion.
Ingredients: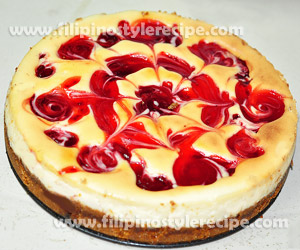 2 cups crushed grahams
1/2 cup butter, melted
1/4 cup sugar
1 teaspoon ground cinnamon
2 packs cream cheese, softened at room temperature
1 can condensed milk
1 lemon, juiced and zested
2 teaspoon vanilla extract
3 eggs
2 tablespoon flour
1 can strawberry pie filling, divided into half
Procedures:
Part 1
1. To prepare the crust, combine the crushed grahams, butter, sugar and cinnamon.
2. Press onto the bottom of 9 inch ungreased springform pan. Refrigerate for 30 minutes.
Part 2
1. In a mixing bowl, beat cream cheese using an electric mixer until light and fluffy. Gradually beat in the condensed milk. Mix in lemon juice, lemon zest, and vanilla extract. Beat in the eggs at low speed one at a time until just combined. Add the flour and beat again.
2. Pour half of the cream cheese mixture over the crust. Place half of the strawberry fling by half teaspoonfuls over the cream cheese layer. Carefully pour remaining cream cheese mixture over the strawberry.
3. Based on the design that you want, drop teaspoonfuls of the remaining strawberry over the cream cheese layer.Cut through top layer with a knife to swirl and make the design.
Part 3
1. Bake in preheated oven at 350 degrees for 45-50 minutes until center is almost set. Turn off oven but leave the cheesecake inside for around 30 minutes. Remove from the over and carefully run a knife arond the edge of pan to loosen. Let it cool completely on wire rack. Refrigerate for at least 4 hours before serving.
Comments
comments
Powered by Facebook Comments