Ingredients: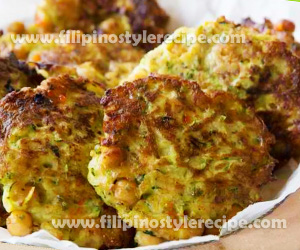 2 medium sweet potato, peeled and julienned
1 cup sliced mushroom
1 cup chopped spinach
100 grams flour
1/4 cup milk
1 raw egg
1/2 teaspoon sugar
1/2 teaspoon salt
vegetable oil for frying
Mint leaves for garnishing (optional)
Procedures:
Part 1
1. In a mixing bowl, whisk the flour, milk, and egg then season with sugar and salt.
2. Continue stirring until well blended.
3. Add spinach, sweet potato and mushroom then mix until evenly coated.
Part 2
1. In a frying pan, heat oil then scoop a tablespoon of mixture. Fry over low heat until golden brown both side. Drain on paper towels.
2.Transfer to serving plate then garnish with mint leaves. Serve hot with dipping sauce.
Comments
comments
Powered by Facebook Comments